Featured Property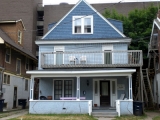 410 E. Jefferson St.
Near the corner of Thompson, by the SAB. This is the first floor of the house and has 3 nice sized bedrooms, one bathroom and a kitchen. There is free laundry, it's fully furnished, and you're only one minute to class! $2395/mth plus utilities. August lease. This home is
available
for lease for 2018-2019!
More Information »
2018-2019 Leasing is happening now!
Dan's Houses has a number of beautifully restored homes on the University of Michigan campus and one of them is sure to meet the needs of your group. Please take a moment to look through the "Browse Properties" section for a brief description of each one. I'm almost all booked up, so let me know if you find a house you are in love with and we'll meet right away to pick up your holding deposit!
View All Available Properties!